Hosted by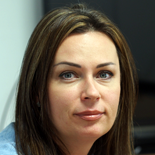 Ela Stewart
Customer Support Team Member
at Leon Software
Due to her crew planning experience and vast, expert knowledge in this field, Ela has actively participated in the development of the current version of Leon's Crew Panel. In this webinar she will go into details about new exciting features for crew planning, currently introduced in Leon.
In less than an hour you will learn about features that bolster the productivity of planning departments. We will introduce:
The evolution of our crew planning system
New features of the interface
The all-new crew roster notification system.
On-demand access to the webinar after the event is available only to the registrants.
You can join the webinar by registering via online form