Leon Software has been on the market for just 9 years, nevertheless the company has managed not only to establish a strong position in Europe, as one of the leading providers of scheduling software, but also to enter the global market. Today, over 120 air operators located worldwide, as well as several flight support companies, use Leon system in their day-to-day operations.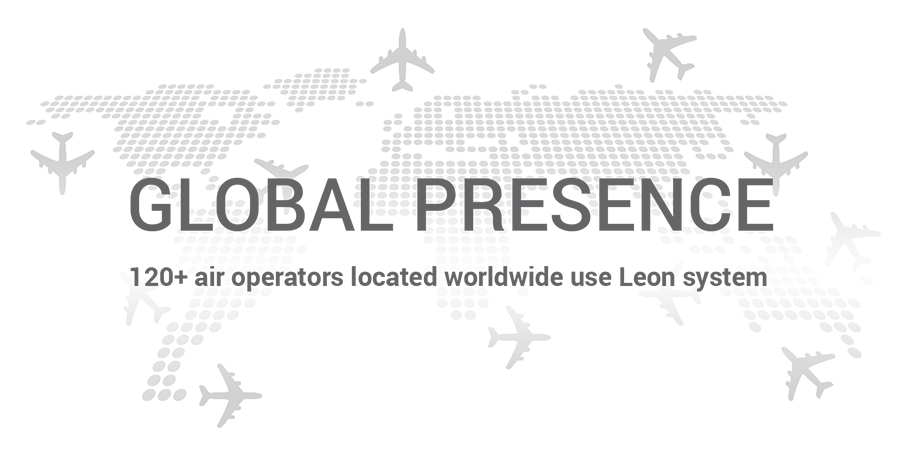 The cornerstone of the success lies in the Internet. From the very beginning Leon system has been designed as a cloud-based solution. The current technology allows to provide reliable support and trainings online. Both factors made it possible to offer the system in any place around the world where Internet access is available.
Looking back at company's history, you can see that the global presence has been reached step-by- step. In September 2007, when the company was incorporated, only Clients in Poland were using the system. It took 2 years to make the application ready to be offered internationally. The first Customers from other European countries started to use Leon in 2009. Once the application was ready to be used in Europe, it turned out that there was a demand for it also on the Asian market. Therefore, in 2009 the first air operators from Asia began to use the system as well. Back then it was a big challenge, the company doubled its structure and focused on product's further development to be able to meet Clients' needs. Two years were spent to excel the system and to strengthen the European and Asian presence. Company's reach in other regions started in 2011, first in the Middle East, then in South America followed by Africa, Australia and Latin America. Recently the first Clients from North America started to use our system, but our presence in the US still needs to be built.
Having the global experience, we don't forget to focus on our Clients' local needs. Our system's FTL engine allows to reflect all the individual flight duty period regulations. Our aim is to excel and develop Leon further to make it the first choice on the global market.