Leon Software is proud to announce integration with LogTen Pro for Mac, iPhone and iPad enabling pilots to share flight data seamlessly with their electronic logbook.
Leon Software has launched the latest version of business aviation scheduling software with the added feature of data sharing with LogTen Pro. Pilots at companies across Europe, Middle East, Asia & South America using Leon can now share their schedule with LogTen Pro at the touch of a button.
"Electronic logbooks, along with electronic flight bags are inevitably replacing paper in aviation therefore the integration with Coradine's LogTen Pro was a natural step for us." – said Leon CEO, Pawel Czubilinski, "We had a number of pilots request this feature and we were happy to discover that implementing the code to enable pilots to easily export all their flights directly from Leon to their LogTen Pro logbook is very straightforward."
Integration with LogTen Pro is made easier by LogTen Pro's publicly available Application Programming Interface (API). The API provides all the necessary information for companies wishing to integrate with the logbook software. LogTen Pro's API has already been implemented by companies such as ForeFlight, Jeppesen Crew Alert and Roster Buster. Leon Software also has such an API so far besides LogTen Pro it has been used by Avinode, PFB Paperless Flight Bag EFB, PPS, PrivateFly, Startajet, Victor & Salesforce.

Noah Lieberman, Coradine CEO said – "It's great to have Leon integrating with LogTen Pro to make pilots' lives easier. We built our public API for exactly this reason and it's fantastic to see developers like Leon using it."
To learn more about Leon Scheduling Software, visit: http://www.leonsoftware.com
To learn more about LogTen Pro and Coradine, visit: http://coradine.com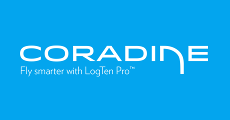 About Coradine
Coradine has been developing applications for Macintosh since 2003, and has a proven track record of bringing exceptional software products to market. Founded by pilot, engineer and interface designer Noah Lieberman, Coradine continues to lead the industry in providing professional aviation software for the Mac and iOS (iPhone, iPad and iPod) platforms.
About Leon Software
Leon Software is developing its web based scheduling system since 2006. It is dedicated to business charter and small airlines market. The company is mainly oriented on European and Asian air operators and want to continue product development towards FAA regulations in the nearest future. Leon is open to integrations therefore Leon's Customers can expect more integrations soon.