Selling charter flights via Leon has been enhanced with new options for cryptocurrency payments, through the integration with Mirai Flights.
Payments in Bitcoins alongside other popular cryptocurrencies have suddenly become a versatile method of conducting settlements in the jet charter industry and there are several reasons for that. Crypto gives customers an opportunity to finalise transactions faster, outside of normal banking hours, paying for a charter within seconds through a secure, efficient channel.

While several business aviation companies have recently adopted cryptocurrencies in addition to their traditional payment methods, these new options have been so far limited for a number of operators. The implementation of Mirai Flights integration in the ecosystem of Leon's integrated solutions changes that significantly. The Mirai Flights system guarantees operators a fast 1-day connection, easy link building and no chargebacks. The additional perk comes in the form of branded operator payment order pages. The integration is now available with over 40 other solutions in the Add-ons section of Leon. Enabling it is as easy as contacting the Mirai Flights support at and requesting an API token.
The Mirai Flights Integration
An integration with the Mirai Flights payment system allows for a seamless incorporation of cryptocurrency payments into the workflow process of Sales departments that use Leon on a daily basis. Sales teams can now include auto-generated payment links in the communication with a client, with transaction amounts that could be up to 300,000 EUR and no chargebacks allowed via the system.
"The extent to which cryptocurrencies can be utilised as a payment method for private jet bookings has really boomed over the last year, making it a must-have payment option for a rising number of business operators" said Paweł Kruk, CEO of Leon Software. "At Leon, we are excited to be at the vanguard of the change, introducing the support for blockchain transactions to the growing part of the jet charter industry."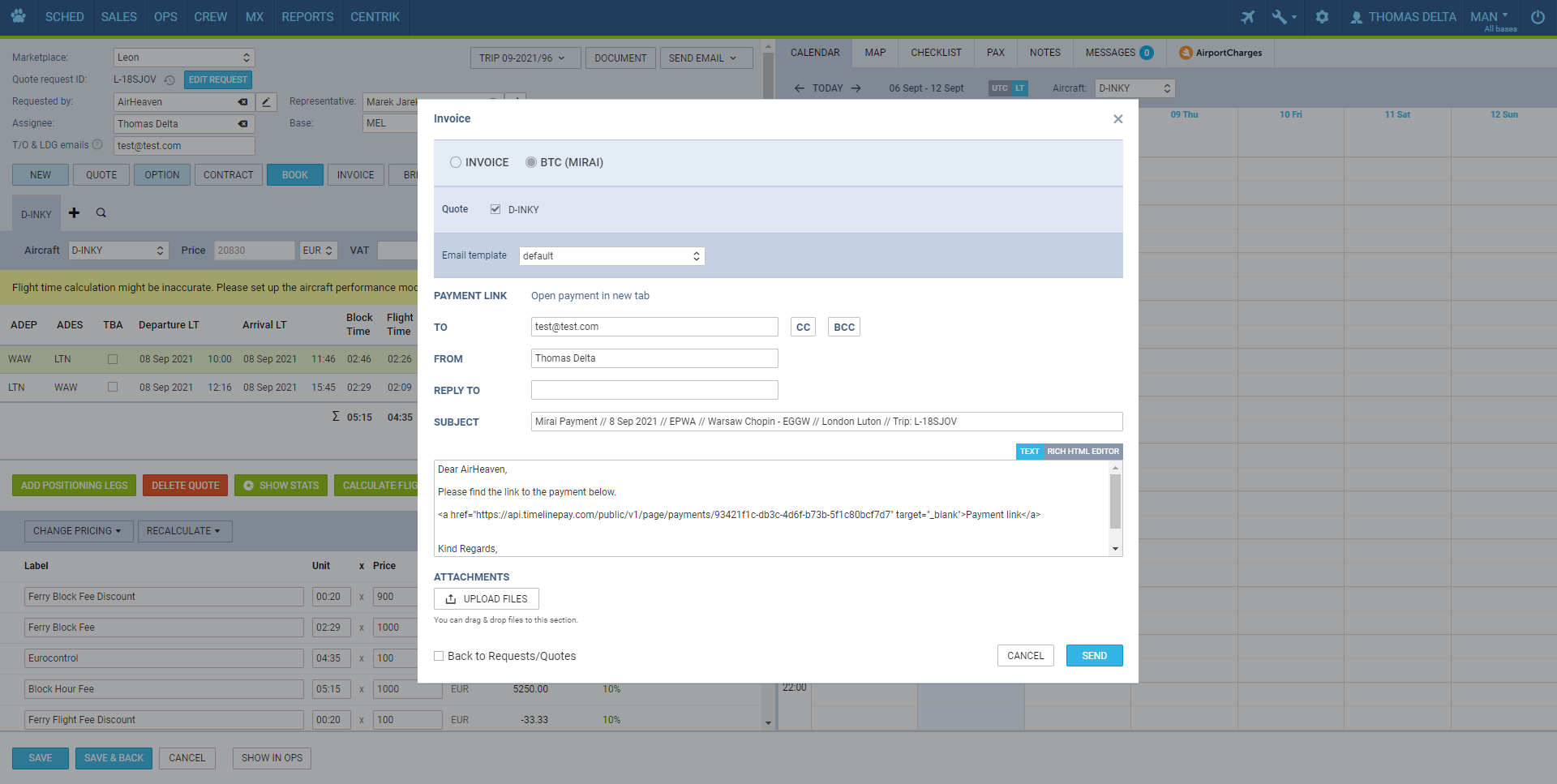 Sending payments links in cryptocurrency via Leon Sales.
So far payments conducted via Leon have support for Bitcoin (BTC) and Ethereum (ETH), with other cryptocurrencies like USDT and Litecoin (LTC) to be available in the near future.
"Since the implementation of this project with Leon, customers of Malta-based operator Emperor Aviation have made transactions amounting to more than €3 million," said Irakli Litanishvili, CEO & Founder of Mirai Flights. "We are delighted that the partnership with Leon will enable our customers to leverage their digital asset for flights while enabling operators to maintain customer loyalty, increase margins and attract new audiences to the business aviation market."
Together with the integration of the payment solution, all Leon client operators get the exclusive option of placing a charter fleet in the Mirai Flights app.
---
Mirai Flights is a UK-based service for instant booking charter flights with price transparency and focus on the UK, Europe, Middle East, and the CIS states. Mirai Flights connects clients to private jets, offering a suitable time and place of departure with an option to choose the class of aircraft, price, number of passengers, and comfort level, and make a one-click payment.
The Mirai Flights service provides operators with a service for calculating the cost of a charter flight without a sales department, guarantees the performance of the aircraft charter contract and informs customers in real-time about the preparation and performance of the flight.
For more information, please contact: +44 7723 482438
Not yet a member of the Leon community? Contact our Sales team to ask for a demo and find out more or jump straight into the 30-day free trial.
NEWSLETTER
Join Our Newsletter
Get our monthly newsletter, LeonNews. Check out the latest news.