OPS
flight operations software
This is where we have started our product from. We have put a lot of effort in making life for this particular department easier.
OPS department is the operating heart of every aviation company and usually works under HUGE time pressure. Every click less to get the desired result is appreciated. We know how these departments work because at the beginning of our aviation career we worked as dispatchers as well. In our system we have many useful tools for daily operations and here we will mention the most important of them.
---
Where are we flying?
Flights view is the heart of the software itself. We realized that to display all information in a clear way more than one view of flights is required. Therefore, in our application there are three different ways you can view flights. The very important thing for us is to make the application intuitive in its usage even if it is growing bigger and bigger. That is why OPS department has their own flights view presented in a form of the table.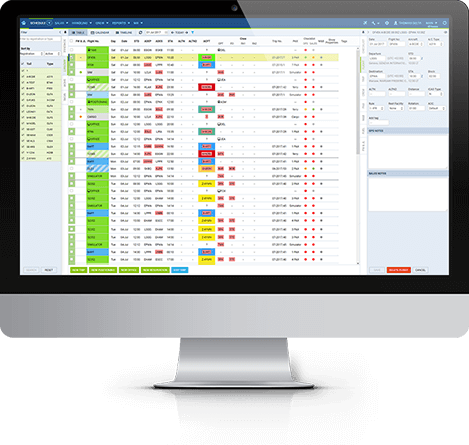 In this view dispatcher can see key information such as:
where (ADEP, ADES)
when (UTC, LT)
who (a/c registration and crew)
is it legal (FDP warning)
is it ready for dispatch (status dot - red, orange, green - just like traffic lights)
Also, you can get documents for the flight with just one click. Leon generates several different documents including GARs for UK, GEN DEC, PAX manifest, Trip Sheet, etc. All in PDF format.
When any flight is clicked, many flight properties can be accessed on the same screen.
---
What needs to be done?
Dispatchers manage many different small items concerning every flight and they need to pass the information about the preparation stage to the next dispatcher on duty, because not all flights are possible to be prepared on a single duty. There are many traditional ways to do it such as: paper notes, whiteboards, spreadsheets, e-mail reports, etc. All of these take extra time and still some vital information can be left out or come unnoticed. With Leon dispatchers do not need to double their work, they have everything at hand. With one click on the status dot of a given flight they have an easy access to all details about the preparation with required comments. The details that are available at one glance can immediately answer a lot of questions. Let us give you just a few examples:
Flight Plan. Was it created in a flight planning software? (we are connected to PPS, RocketRoute and EuroFPL) Was it sent to EUROCONTROL? Did they acknowledge that?
Is operational plan ready? Are winds current? Is fuel consulted with CPT?
Is landing permission required on destination airport? If yes, is it arranged? Yes? What is its number?
Is overflight permission required? What FIRs? What are the numbers? Validity? Which time the company is approaching for this permission?
Is training for this airport required? If yes, do the crew have the training? Are their passports and visas valid?
Is handling arranged? Was everybody concerned informed? Schedule has changed! Do we need to update them with the information?
Is passenger list acknowledged? What are their names, passport details and dates of birth?
What is the fuel supplier we are going to use on the destination airport? Is it cost effective?
Answer to all those questions can be easily accessed through the Checklist
---
Flight watch
They took off but haven't landed, yet. Company needs to be aware not only of the schedule. You need to know the current status of your flights. Do we have a delay? Why? These might be some of your questions that we have answers to.
Leon is connected to EUROCONTROL so all movements within its area are automatically imported. If your company has SITA connection through ARINC, we can automatically import aircraft movements into the system as well. If not, you can enter them manually.
If there are any last minute changes to the schedule, Leon will send out this information automatically to your crew. The same with CTOT. You don't need to call to the crew to let them know about it.
Fleet documents in one place
Crew have their licenses, medical certificates and stuff like that, but what about aircraft? You have noise certificates, AOC copies on each of them, insurance, first aid kit, extinguishers...and many more. You need to track them as well. Your OPS department needs to have an easy access to them in order to send some to various authorities while applying for permits. That is just one example.
Leon tracks validity of such documents and send out notifications about their expiry dates.
OPS department outsourcing option
Did you consider to outsource your OPS & dispatch to professionals? Leon cooperates closely with FDS, which provides flight support using Leon from the very beginning. This solution can combine 24/7 flight dispatch center with our software and let you just sit back and enjoy flying. As FDS is a Leon user, you just need to add flights or updates into Leon and FDS can start working on it. No more e-mails and phone calls. You can find more on www.fdsops.com
Expand your business with Leon