Reporting
company data overview
During daily usage of the application, you feed it with lots of data. All this data can be later used in various ways to give you an overview of your organization from different angles.
The basic source of data is your flights schedule. Leon can do various statistics based on planned flights and post flight data.
---
Schedule and post flight reports
There are lots of predefined reports based on schedule like Aircraft Flights (flights statistics including average fuel burns per hour), Aircraft Block Time by Month (fleet utilisation overview), Cancelled Flights (percentage of cancelled legs within schedule), Delays / On time (compares planned schedule with post flight data), Empty Legs, Top Destinations, etc.
Various fuel statistics can be retrieved from the system like average fuel consumption on a given route or specific tail.
There is also one special report which can be customised to your needs. It lists all possible flights' details according to the flexible filter settings and can be exported to Excel for further processing.
---
Crew reports
Another group of reports concentrates around crew and allows to retrieve various data related to crew members such as Block Time by Function, Crew Block Time (summarises crew flight times on each position), Crew Days (days flown or in standby on a given aircraft), Crew Currency (details about crew member flights counted towards his/her aircraft type currency), Personal Flight List (used to export flights to pilot's logbooks).
Reports to calculate extra crew costs like per diems and other expenses are available as well.
---
Reports for authorities
There are many reports dealing with crew duty times useful for CAA like Crew Duty (general duty times overview on each aircraft), FTL Sheet (very detailed view of a selected crew member's FTL records and violations) or FTL Violations (summary of all FTL violations within company over a given period of time). Other reports like ICAO part B or data export to CARI-6 cosmic radiation calculation software are available as well.
---
Maintenance reports
In maintenance reporting section, there are statistics of flights being executed with HIL items opened, scheduled maintenances and average oil consumption.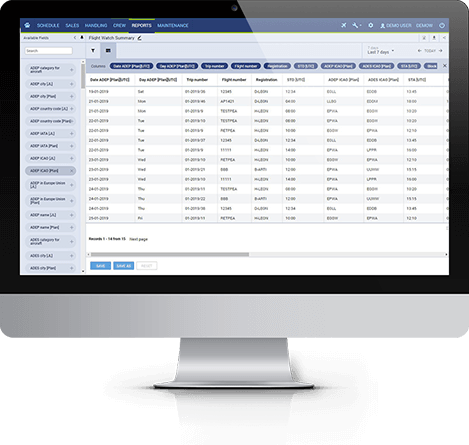 We know we cannot predict all possible reports you might want to have from the system, therefore we have created export to Excel functionality to allow you manipulate data in a more sophisticated way. Additionally many reports have export to PDF available for easy printing and sending out.
Expand your business with Leon